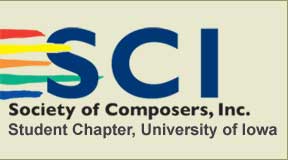 Society of Composers Inc.
University of Iowa Chapter
New Music Symposium 2018
Committee
Carlos Cotallo Solares, President    Jeremy Maas, Vice-President
Carlos Toro Tobón, Treasurer    Zachery Meier, Secretary
New Music Concert
Featuring winners in the 2018 Call for Scores
Richard Drehoff Jr., JP Lempke and Jeremy Rapaport-Stein
March 3, 2018, 7:30 pm
Concert Hall, Voxman Building, School of Music, The University of Iowa
Program
LOUi instrumentalists:
David Beyer,
Joseph Norman,
Andrew Novitskiy,
Alexander Spenceri,
Carlos I. Toro-Tobón,
Andrew Willette,
Will Yager
| | |
| --- | --- |
| Refractions: On Escher | Richard Drehoff Jr. * |
Daniela Volkovinsky, flute
| | |
| --- | --- |
| Err29 - KB98712 | JP LEMPKE * |
Fixed Media
| | |
| --- | --- |
| Mumblebug | Jeremy RAPAPORT-STEIN * |
* 2018 Call for Scores winners
Program Notes
David Beyer
The Glacier
This piece was composed as a tribute to the moments of doubt and insecurity through which all musicians must persevere. The parts instruct each performer to play two instruments--the acoustic instrument that is most familiar to them, and a newly invented microtonal digital instrument called the Harmony Matrix. The musicians revisit their own musical memories, and respond to the sound events they experience without foreknowledge of each other's parts.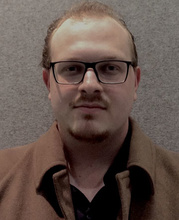 David Beyer's work integrates theater, dance, and mathematics to navigate music within a physical space. His compositions utilize reimagined acoustic instruments and digital instruments of his own design to construct harmonies that reside within the gaps of the conventional musical scale. The first movement of Eclipses, a string quartet using just intonation, was read by the JACK quartet.
    He graduated from Berklee College of Music summa cum laude in 2015. He is currently a teaching assistant in the MA degree program at the University of Iowa, and studies composition with Jean-François Charles.
---
Richard Drehoff Jr.
In Resonance
Attacks generate sound/resonance that fades to silence, but – silence should never be noticeable until the piece has ended.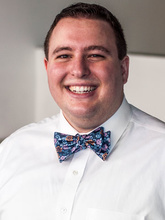 Richard Drehoff Jr.
(b. 1991) is a musician intrigued by mathematical patterns, captivated by philosophy's deepest questions, and fascinated with the relationship between our understandings of musical and extramusical concepts.
    Richard's works have been performed across the US and internationally by the ECCE Ensemble and the New Mexico Contemporary Ensemble. In 2017, he was selected as a composition fellow for the James Tenney Memorial Symposium in Albuquerque and Santa Fe, New Mexico, and has had the opportunity to work incredible performers and composers of international acclaim.
    An active composer and pianist, Richard serves as the managing director of earspace, a North Carolina-based ensemble dedicated to cultivating invigorating, site-specific performances of both modern and past works. Richard also founded the Chapel Hill Contemporary Music Ensemble, which premiered over twenty new compositions during his tenure as conductor.
    Richard is currently a student at the Peabody Conservatory in Baltimore, MD, where he's studied with Felipe Lara and Michael Hersch. He previously attended UNC-Chapel Hill, earning degrees in music and math, working with Stephen R. Anderson, Severine Neff, Allen Anderson, and Lee Weisert.
---
JP Lempke
Err29 - KB98712
All in theory: Pockets of sound defined by stability/stasis, variegations in attack density, synthetic vs. real sources, and limited linearity/motion coalesce into a mostly cohesive whole. Abrupt breaks with ongoing material cut strange, blocky formal chunks out of otherwise smooth spectral shapes. The often small sections are either lightly varied or grossly contrasting. Rude interjections may or may not be expected, and the timing, placement, and volume of computer-generated sine and square waves could possibly induce discomfort and/or revulsion. In all, two sets of machine-like sounds, one digital and one mechanical, coexist within the same framework, their interactions suggesting not a gadget in working order, but an apparatus failing to operate properly.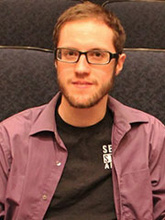 JP Lempke draws much of his aesthetic from the odd procedures of contemporary artists, which reflect in his incorporation of bizarre moments into disruptive soundscapes. He earned his Bachelor of Music in Composition and Piano Performance with Pedagogy at the University of Nebraska – Kearney in 2016. His Master of Music in Composition is in progress at Arizona State University, where he operates as the co-director of the laptop orchestra and the founder of the RSL Trio. His works have been premiered at the Society of Composers, Inc. Region VII Conference and the Delian Academy for New Music in Mykonos, Greece.
---
Jeremy Rapaport-Stein
Mumblebug
The work offers its performer an opportunity to meditate on their perception of time and softness.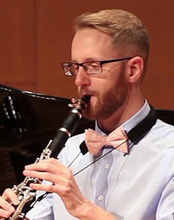 Jeremy Rapaport-Stein
(b. 1992) is a Boston-based composer whose work explores visual art and gesture, time, voice, and euphoria. He is an active member of the vibrant Boston new music community, enjoying frequent collaboration with local musicians and arts organizations. Recent and ongoing projects include new works for Yarn/Wire and SPLICE Ensemble. Jeremy is a doctoral student in music theory and composition at Brandeis University, where he studies with Erin Gee.