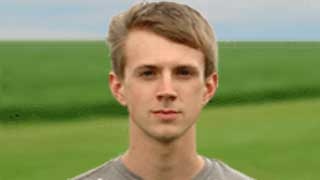 CONCERT I
Sunday, September 12, 2010, 7:30 p.m.
University Capitol Center Recital Hall (map)
Christopher Sande, percussion
performed works by
Zach Fischer, Cornelius Cardew, James Tenney, Christopher Gainey, Vinko Globokar & Iannis Xenakis
Program
| | | |
| --- | --- | --- |
| The Night, Nothingness, and Life (2008) |   | Zach FISCHER (b. 1978) |
| Treatise (1967) |   | Cornelius CARDEW (1936-1981) |
| Luna (2008) |   | Zach FISCHER (b. 1978) |
| Having Never Written a Note for Percussion (1971) |   | James TENNEY (1934-2006) |
|   | Intermission |   |
| Soggy Fountain Meltdown (2010) |   | Christopher GAINEY (b. 1981) |
| ?Corporel (1985) |   | Vinko GLOBOKAR (b. 1934) |
| Psappha (1975) |   | Iannis Xenakis (1922-2001) |
Performer
Christopher Sande studies percussion at the Hochschule für Musik in Freiburg, Germany with Bernhard Wulff through the support of the German Academic Exchange Service (DAAD). While completing his BM at the University of Iowa with Dan Moore and Ginny Armstrong, he had the good fortune to perform with many, very diverse ensembles in pop, traditional, and Western classical musical styles. He now focuses primarily on contemporary music, enjoys working with young composers on new works, and is currently especially interested in the music and writings of James Tenney, Vinko Globokar, and Sufjan Stevens. If you have any questions regarding the pieces or performances from this evening, please feel free to email him.
Program Notes
Zach FISCHER
The Night, Nothingness, and Life
Luna
I composed these two short single-movement works in 2008 at the University of Iowa for Chris Sande. Both pieces are conceptually simple, yet technically challenging. The Night, Nothingness, and Life is a drum set solo; its rhythms and associated timbres become progressively faster, more complex, and varied as the piece moves along. The piece metaphorically represents the creation of the universe as inspired by Mayan mythology. In Luna for solo marimba, the music's straight-forward formal design (characterized by motion to and from a central quote) underpins a network of complex rhythmic relationships. The quote, a reference to a popular Guatemalan waltz (Luna de Xelajú by Paco Peréz), is the harmonically generative focal point. Z.F.
Zachary Fischer (b. 1978) has studied composition at the University of Maryland Baltimore County and Rutgers University, and recently earned his Ph.D. at the University of Iowa as a student of David Gompper. His music is intensely personal, revealing his fondness of modern poetry and the folk music of Latin cultures. It is often highly virtuosic, freely chromatic, rhythmically complex, and draws on the exposed and intimate quality of delicate instrumental textures.
---
Cornelius CARDEW
Treatise
Treatise is a 193-page work comprised entirely of graphically notated material with instructions: "For any number of musicians with any instruments. May be performed whole or in part." Four years after publication, Cardew unenthusiastically released the Treatise Handbook, a small collection of advisory materials including his working notes from the compositional process, a résumé of pre-publication performances, two of his own compositions based on Treatise, and three articles. This performance is an interpretation of page 113.
Cornelius Cardew (1936-1981) began his compositional studies at the Royal Academy of Music in London followed by a period studying electronic music with Karlheinz Stockhausen in Cologne. In 1958, following an experience of hearing John Cage and David Tudor in concert, he abandoned serial composition to explore the developing American avant-garde ideals of indeterminacy and experimentalism which provided him a form of expression that in his mind connected his composition with his humanistic values, heralding democracy and personal freedom. Throughout this period he produced his most well-known work including the graphic score Treatise, representative of his rejection of definite notation, followed by several projects in improvisation, a rejection of notation in its entirety. Later he rejected the avant-garde as well, a reflection of his developing dedication to Marxist thought (viewing the avant-garde in general as elitist and imperialist in nature), and dedicated his vigorous political voice and creative efforts to supporting socialism, returning to traditional compositional tools of tonality and notation and increasing the political content of his music. Cardew was killed by a hit-and-run driver not far from his home in East London.
---
James TENNEY
Having Never Written a Note for Percussion
The postal pieces are a series of ten works in which the scores have been printed on postcards, each of which represents an aspect of Tenney's attitude toward music and form in terms of avoiding the drama created by most music. In his words, "If the audience can just believe it, after they've heard the first twenty seconds of the piece, they can almost determine what's going to happen the whole rest of the time. When they know that's the case, they don't have to worry about it anymore - they don't have to sit on the edge of their seats... What they can do is begin to really listen to the sounds, get inside them, notice the details, and consider or meditate on the overall shape of the piece, as simple as it may be. It's often interesting how within a simple shape there can be relationships that are surprising." The complete score for Having Never Written a Note for Percussion consists of one tremolo note marked with a fermata noted "very long" crescendoing from pppp to ffff and then returning to pppp. No instrument is specified.
American composer James Tenney (1934-2006) studied piano and composition with Eduard Steuermann, Chou Wen-Chung, Lionel Nowak, Carl Ruggles, Lejaren Hiller, Kenneth Gaburo, and Edgard Varese. A performer as well as a composer and theorist, he was co-founder and conductor of the Tone Roads Chamber Ensemble in New York City (1963-70) and performed with the ensembles of Harry Partch, John Cage, Steve Reich, and Philip Glass. He was long active in the field of electronic and computer music, working with Max Mathews and others at Bell Telephone Laboratories in the early 1960's to develop programs for computer sound-generation and composition. He is the author of numerous articles on musical acoustics, computer music, musical form, and perception, and two books: Meta + Hodos: A Phenomenology of 20th-Century Musical Materials and Approach to the Study of Form and A History of 'Consonance' and 'Dissonance.' (Smith Archives)
---
Christopher GAINEY
Soggy Fountain Meltdown
Soggy Fountain Meltdown is an exploration of the disjointed rhythmic and melodic possibilities inherent in the three-finger Scruggs style of banjo playing. While this piece does not directly evoke bluegrass music, its textures evolve directly from the interaction and evolution of isolated rhythmic figures that are similar to those employed in music that features the banjo. The opening texture is very active, juxtaposing broad melodic lines in the vibraphone with incessant rhythms in the other instruments. This texture devolves over the course of the piece eventually reaching an ethereal anticlimax before building back to a more active texture. This piece is dedicated to Chris Sande. C.G.
Christopher Gainey (b. 1981) did his undergraduate and Master's level work at the Peabody Conservatory earning degrees in composition, guitar performance, and music theory pedagogy before receiving a Ph.D. in composition from the University of Iowa. His music has been performed throughout the United States and abroad by groups such as the University of Iowa Center for New Music, The Ligetisplit Ensemble, The Affinity Chamber Players, Duo Transatlantique, and The San Francisco Guitar Quartet. His music is published by Vogt&Fritz, in the SCI Journal of Music Scores, and his music is included on recordings from SCI, ERM Media, and the San Francisco Guitar Quartet. He is currently a lecturer in composition at Grinnell College and a Visiting Assistant Professor of Music Theory at the University of Iowa. For more information please visit his website.
---
Vinko GLOBOKAR
?Corporel
Trombonist and composer Vinko Globokar (b. 1934) began as a jazz musician in Yugoslavia before studying composition in Paris and later in Berlin, with René Leibowitz and Luciano Berio respectively. His work can be distinguished by a generally energetic, spontaneous, and especially experimental nature, often incorporating extended instrumental techniques and blending extra-musical elements (movement, speech, theater, politics, etc.) into performance. The relationships between and roles of composer(s) and performer(s) have also provided Globokar a great source of interest, and as a performer, one can expect a certain level of freedom (or a required amount of personal involvement and contribution, depending on one's perspective) when approaching his compositions. ?Corporel is for a percussionist, performed on his body.
---
Iannis XENAKIS
Psappha
The construction of Psappha consists of a grid, 2397 segments long, split into six instrumental groups A-F, each with three instrumental lines 1-3 (with the exception of group E having only one instrument) pitched from high to low — groups A, B, and C are to be wood and/or skin instruments, and groups D, E, and F are to be metal. The ultimate selection is left up to the performer with the task of "clothing the rhythmic structures and architectures of the piece" in a way that highlights rather than obscures them. The rhythmic structures themselves were inspired to some degree by the poetry of Sappho, after whom the piece is titled, but were also demonstrably generated through the use of sieves, the Fibonacci sequence, and other mathematical devices.
Iannis Xenakis (1922-2001) followed a relatively extraordinary path to composition, first entering the European music scene in his late twenties. He arrived in Paris from Greece shortly after WWII having fled his home as part of the increasingly persecuted Greek Resistance. He was sentenced to death in absentia for the crime of political terrorism. Amidst his underground political activity he studied architecture and engineering, and the influence of those subjects (in addition to his political experiences) characterized his musical output throughout his life. In addition to writing some of the most important and influential music of the percussion repertoire, Xenakis was able to unite music, science, and mathematical theories and apply them to the compositional process. Through his work, he also contributed considerably to electronic and computer music by using them as tools to realize his musical ideals.