Contemporary Music from Israel
A festival of music by living Israeli composers
back to Provost Global Forum page
back to CNM Festival page
Concert 6
Saturday, April 22, 2023 at 7:30p, Concert Hall

The Meitar Ensemble
with Christine Rutledge, viola (Barash & Czernowin)
Pierre-André Valade, conductor
Program
| | |
| --- | --- |
| Alakhson for sextet (WP) | Omer BARASH |
| | |
| --- | --- |
| Air pressure flute, clarinet, violin, violoncello (2010) | Sivan COHEN ELIAS |
| | |
| --- | --- |
| Sha'ashuim for ensemble (2022) | Carmel CURIEL |
Intermission
| | |
| --- | --- |
| Fast Darkness III (2022) | Chaya CZERNOWIN |
| | |
| --- | --- |
| Do you like Bill? for quintet (2013) | Ziv COJOCARU |
| | |
| --- | --- |
| The Yearnings of the Duck…In Memoriam Dudu Geva (2008) | Ruben SEROUSSI |
Meitar Ensemble
Hagar Shahal, flute
Jonathan Hadas, clarinet
Nadav Cohen, bassoon
Talia Herzlich, violin
Yoni Gotlibovich, violoncello
Amit Dolberg, piano
Pierre-André Valade, conductor
---
Program Notes & Bios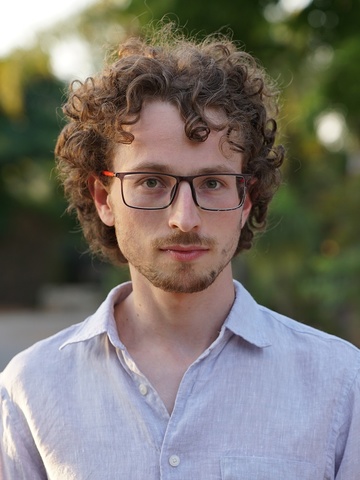 In Hebrew, Alakhson can be mean diagonal or oblique. With this piece I aim to cast an oblique glance over some milestones in the lineage of Israeli concert music, from my own standpoint as a link in this chain, so to speak. In this regard, Alakhson pays homage to Yinam Leef, with whom I studied at the Jerusalem Academy and whose Violin Concerto and Intermezzo No. 1 are woven into the present piece. By utilizing heterophonic textures, the piece also refers to one generation older, to Mark Kopytman — Leef's own teacher, who iconified this particular texture (to which he refers as music's diagonal dimension) and established it within the soundscape of Israeli concert music.
Omer Barash is a composer currently based in Paris, where he studies at the Cursus Program of Composition and Computer Music at IRCAM. His main compositional interests include the exploration of movement and gesture in music, and his work is often inspired by Hebrew texts and traditions and the soundscapes that surround him.
      Born in Israel in 1995, Barash graduated from the Jerusalem Academy of Music and Dance with the highest honors, where he was also a member of the Tedarim Program of contemporary music, mentored by the Meitar Ensemble. He then continued his studies at McGill University with Philippe Leroux, where he served as President of the McGill Association of Student Composers, and at the University of Music and Performing Arts Vienna (mdw) with Karlheinz Essl.
     The 2022-23 season will see premiers of Barash's music by Ensemble Modern and The Israeli Contemporary Players, as well as a new piece for soloist and electronics to be performed at IRCAM's Espace de Projection.
---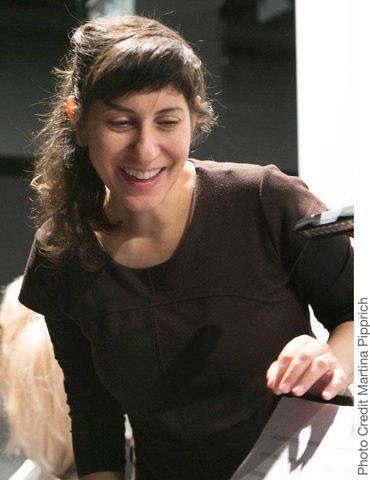 Air Pressure - Inner energy floods a body that can barely contain it. The body remains weak, drained and asphyxiated. The piece is written for flute, clarinet, violin and cello with the musicians also performing vocal and breathing sounds. The bodies and the instruments are structuring together a "DNA chain", continuously switching roles to form a modular entity. From afar, the entire group, with its various organisms, seems to transform into one creature fighting against itself.
      Air Pressure was commissioned by the Rabinovich Foundation Tel Aviv, and premiered by Talea Ensemble in Paine Hall, Cambridge, MA in 2010.
Sivan Cohen Elias (Israel/United States) is an electroacoustic and mixed media composer. She has received numerous international awards, residencies, and commissions including Impuls, Akademie Schloss Solitude, Stuttgart, Ernst von Siemens commissions, Music Theatre Competitionprize Staatstheater, Darmstadt, and the Fromm Commission Award. Her works have been performed, and broadcast by ensembles and performers internationally, including Klangforum Wien, Musikfabrik, Dal Niente, Distractfold, Meitar, Jack Quartet, Mosaik, among many others. Festival appearances include Darmstadt Fereinkurse, Bludenz, Wien Modern, Witten, Klangspuren, Warsaw Autumn, Ultraschall.
     Between 2018-2021 she was a Visiting Assistant Professor, and the interim director of the electronic music studio at the University of Iowa. In 2019 she also taught composition at Harvard. In 2021 she taught electronic music performance at New York University and in 2022, she relocated to Minneapolis, Minnesota, where she has been appointed as Assistant Professor of composition/music technology at the University of Minnesota, and teaches composition, and electro-acoustic media courses. Her scores can be found on Babelscores.
---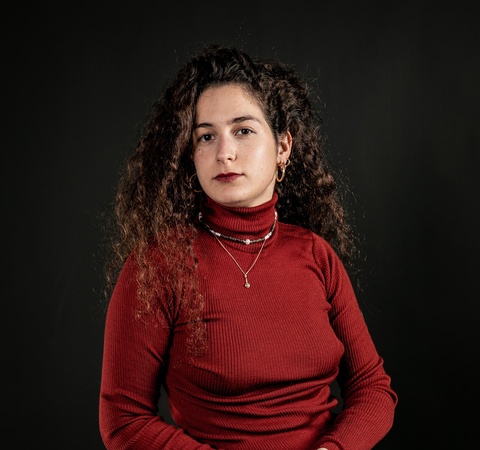 The piece Sha'ashim, which stands for amusement in Hebrew, illustrates imaginary musical scenes. The writing of the piece began as a preparation for a work for musical theater that I intend to write and in which I am focusing on the expression of sensations like playfulness, childishness, and sarcasm.
     In order to express these images, I used gestures and elements that play with the familiar, and distort it. Each movement expresses different actions and flows - the balloons that inflate, shrink and explode, the marionette dancing to the sounds of the crippled waltz as well as the non-stop motion in the catch game.
Carmel Curiel (b.1998, Israel) is a composer, conductor and violinist. Curiel is currently pursuing a Master's degree as part of the "Tedarim" track for contemporary music at the Jerusalem Academy of Music and Dance, under the direction of Dr. Yair Klartag, and Maestro Guy Feder. Previously studied with Prof. Yinam Leef, Dr. Ziv Cojocaru and Prof. Eitan Globerson.
     Curiel received the Sharett Foundation outstanding excellence scholarship in the field of composition (2018- 2022). She won the 1st prize in the Israeli Composers Competition (2019) and at Mark Kopytman Composition Contest (2021), and 2nd prize at Klon Award for emerging composers (2021). Curiel's pieces were played by the New York Philharmonic Orchestra, l'Itinéraire Ensemble, I.C.S Quartet, Mivos Quartet, Tel-Aviv soloists ensemble, Meitar Ensemble, etc.
---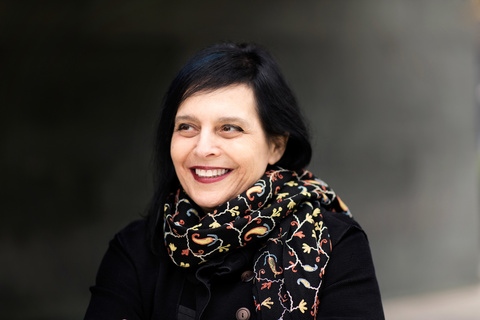 Fast Darkness III is the last part of the trilogy Fast darkness,  2020- 2022.  It is a 16-minute-long virtuosic, wild, and overgrown exploration. Fast gestures,  drawn by a sharp pen and loaded with excited energy inform the listener of a large universe that they are enveloping.
     Just like an entangled climbing branch may give a sense of the house it is climbing on,  the energy-laden gestures in Fast Darkness III,  reveal the presence of the universe they are enveloping. This revelation never comes to be heard in the piece, but hopefully, it is an after-effect of it.
     The piece is dedicated to Temporm Ensemble who commissioned the piece. The composer would like to thank Sanae Yoshida for her help and inspiration in developing the piano part.
Chaya Czernowin was born and brought up in Israel. After her studies in Israel, at the age of 25, she continued studying in Germany (DAAD grant), the US, and then lived in Tokyo, Japan (Asahi Shimbun Fellowship and American NEA grant), and in Germany (a fellowship at the Akademie Schloss Solitude). Her music has been performed throughout the world, by the best orchestras and performers of new music, and she has held a professorship at UCSD and was the first woman to be appointed as a composition professor at the University of Music and Performing Arts in Vienna, Austria (2006–2009), and at Harvard University, USA (2009 -to the present) where she has been the Walter Bigelow Rosen Professor of Music. Together with Steven Kazuo Takasugi and Jean-Baptiste Jolly, the director of Akademie Schloss Solitude near Stuttgart, she has founded the summer Academy at Schloss Solitude, a biannual course for composers, 2003- 2019. Takasugi and Czernowin also taught at Tzlil Meudcan, an international course based in Israel founded by Yaron Deutsch of Ensemble Nikel. Czernowin's output includes chamber and orchestral music, with and without electronics. Her works were played in most of the significant new music festivals. The opera Infinite Now was written in 2017, a commission of Vlaamse Opera Belgium, IRCAM Paris, and Mannheim Stadtheater. In 2018/2019 Czernowin Wrote the text and music to Heart Chamber which was premiered and commissioned by the Deutsche Oper Berlin, in the direction of Claus Guth to a strong critical and public acclaim. Czernowin was appointed Artist in residence at the Salzburg Festival in 2005/6 and at the Lucern Festival, Switzerland in 2013, and at Huddersfield Festival 2021. She was chosen as a member of the Akademie der Kuenste in Berlin in 2017, and as a member of the Bavarian Academy of Fine Arts, Munich in 2021. In 2022, she was awarded the Gema Authors prize in the Musiktheater (new opera) category.
---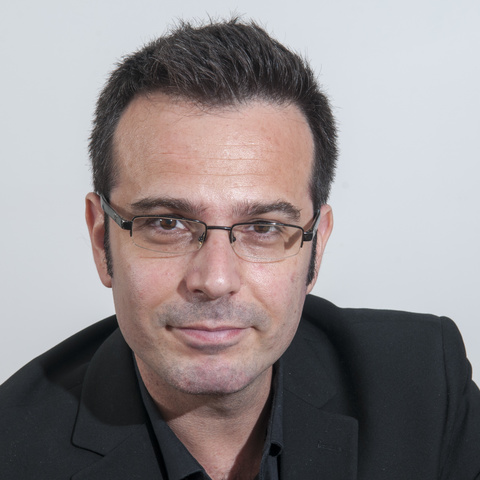 Do you like Bill? was composed as a distant reference to Bill Evans recording of a tune called You must believe in spring, derived from my love and appreciation to Bill Evans that has remained since my youth years when I played and listened to Jazz.
The main idea found in the work is centered on transposing musical behaviors and gestures from the reference to the instrumental quintet field through disassembling and reassembling the musical elements, while strictly respecting the initial reference. Of course, as in any other processes of this kind, the new piece acquires a new autonomy. The instrumental techniques induce musicality that is not contained in the initial model and the musical language is by far very different.
     In this piece there are several quotations from the reference, some more of a rhythmic nature, others more melodic or intervallic in nature. The quotations are usually magnified by a rhythmic accentuation along with various instrumental combinations that will generate the entire score.
     I hope that the listener will realize that these are not really the original elements that move the piece forward, but it is the steady beat and stubborn patterns that change through the transitions and modulatory segments with the concept of continuity as the piece's main ideal. Through continuity, the variation of the idea is obtained by quickly installing and combining several methods such as accentuation patterns, dynamic changes, instrumental thickness, etc.
     In some cases, the contour of the melodies (when they appear), originates from the variations used on a primary pulsation that changes throughout the piece. Other cases introduce themselves as a distraction from the primacy of the beat.
Composer, conductor, arranger and pianist, Ziv Cojocaru is a multidisciplinary musician, active in the fields of classical, contemporary and popular music. Cojocaru received both his Master degrees in composition and conducting with honors at the Jerusalem Academy of Music and Dance. He completed his doctoral degree in composition (Ph.D) at the Bar-Ilan University.
Ziv Cojocaru serves as Head of the Composition, Conducting and Music Theory Department at the Jerusalem Academy of Music and Dance and teaches as a full-time faculty member. He also serves as Conductor in Residence at the Israel Sinfonietta. Cojocaru's works are often recorded and played on the Israeli Radio.
---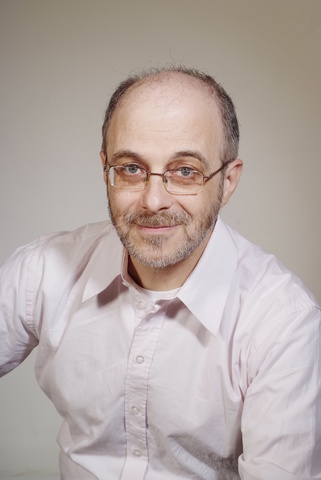 The Yearnings of the Duck is a work dedicated to the artist and comics' creator Dudu Geva (1950- 2005) and according to the subject, it uses very few, simple and graphic musical gestures. In fact, following the graphic technique of comics' drawing, the music uses only one melodic gesture with its four different possible shape realizations. These four shapes are represented by the following drawings:

The Duck (featured in the series "The Song of the Duck" and "The Silence of the Duck") is a character that unites the most physically limited, grotesque and "low" attributes of existence, with a deluded self-image of a charming and an almost "Don Juanesque" person. "He" mingles arrogantly in parties and invites the most beautiful women, taken out of the magazines and glamour imagery, to spend their time with him. Unfortunate results occur with not much delay.
     The music's narrative in this work follows this fatal and circular process of hopes-in-progress and the inevitable following violent failure.
The work was composed for and dedicated to the Meitar Ensemble with support of Rabinovitch Funds on the occasion of the century celebrations to the foundation of the city of Tel Aviv.
Ruben SEROUSSI, a composer and guitarist, was born in Montevideo, Uruguay in 1959 and settled in Israel in 1974 where he completed his studies under Leon Schidlowsky at Tel Aviv University. His works, for various musical formations, have been performed in Israel by the best performers and orchestras, and are frequently performed abroad by well-known ensembles, such as the Ensemble Modern, Ensemble Oriol, New Juilliard Ensemble, Cuarteto Latinoamericano, Continuum New York, Moscow Studio for New Music, Mosaik Ensemble, Musikfabrik a.o.
     A CD with some of his chambers works performed by Ensemble Meitar was released in 2017 by the German label NEOS. In addition, Seroussi is an active concert guitarist, who plays as a recitalist, in chamber formations and as soloist in Israel and abroad. He has also recorded for such labels as Nuova Era and Meridian Records. Prof. Ruben Seroussi is Head of Composition Studies at the Buchmann-Mehta School of Music, Tel- Aviv University.
---