Contemporary Music from Israel
A festival of music by living Israeli composers
back to Provost Global Forum page
back to CNM Festival page
Concert 4
Saturday, April 22, 2023 at 1:00p, Concert Hall
University of Iowa chamber ensembles
Program
| | |
| --- | --- |
| Controversy (2019) | Karel VOLNIANSKY |
Joshua Stine, flute
Jorge Montilla, clarinet
Michael Klyce, violin
| | |
| --- | --- |
| Aria (2005) | Betty OLIVERO |
Jorge Montilla, clarinet
ShengHo Wang, violin
Hanna Rumora, violoncello
Halie Augustus, piano
| | |
| --- | --- |
| Broken Consort (2021) | Udi PERLMAN |
Ramel Price, violin
Rebecca Vieker, viola
Peter Grubisich, vibraphone
Neil Krzeski, piano
Brass Quintet (1983)

     I.
     II.
     III.
     IV.

Haim PERMONT
Michael Gause, trumpet I
Caylan Laundrie, trumpet II
Katy Ambrose, horn
Jonathan Allen, trombone
John Manning, tuba
Present Continuous (2009)

     I. Come the Creator Spirit
     II. Present Continuous
     III. An Eternal Love

Michael WOLPE
Scott Conklin, violin
Jorge Montilla, clarinet
Benjamin Coelho, bassoon
Rene Lecuona, piano
Program Notes & Bios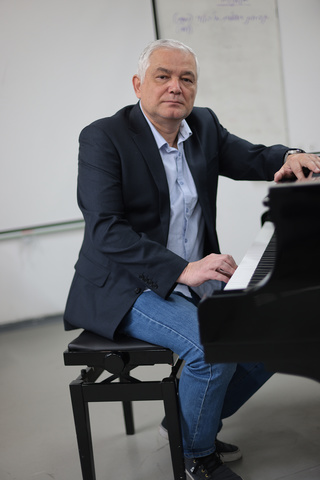 In Controversy (2019), there are reflections on the unity and contradictions that become part of any phenomenon. Imitation, heterophonic splitting of melodic material, different sound shades, and constant variation of melodic echoes between the instrumental lines are designed to convey the complexity and versatility of a single but split line that exists in any phenomenon.
Karel Volniansky (Ph.D.) is a composer and musicologist. Faculty member at the Jerusalem Academy of Music and Dance. Research areas: Music Theory and Composition, Soundscape Studies. Music includes solo, choral, chamber and symphonic compositions, which were commissioned, performed and recorded by various ensembles, among which are: Jerusalem Symphony Orchestra, IBA; Israel Symphony Orchestra Rishon LeZion; Haifa Symphony Orchestra; Israel Camerata Jerusalem; Tel Aviv Soloists Ensemble; Israel Contemporary Music Players; Raanana Symphony Orchestra; Philharmonia Singers; Jerusalem Oratorio Chamber Choir; Thalamus Vocal Quartet and others. Member of the Israel Composer's League since 1993 (ICL, board member in 2006-8); the ACUM (The Society of Authors, Composers and Music publishers in Israel) since 1994; the Israel Musicological Society (IMS) since 2006.
---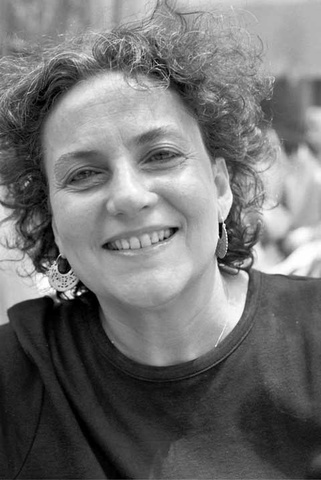 Aria - Throughout the work, distant echoes of instruments such as the middle eastern violin, santour and ney make themselves heard, as well as the sound of various bells and imaginary gongs. Clarinet ornamentations are also a constant thread woven through the work, embellished at times by the piano whose random improvisatory phrases are reminiscent of piano nocturnes. At the climax of the piece, the instruments unite in a monodic a cappella recitation of an ancient prayer.
Betty Olivero was born in Tel-Aviv, Israel. She studied at the Rubin Academy of Music, at Tel Aviv University and Bar-Ilan University with Itzhak Sadai and Leon Shidlowsky, and at Yale University where her teachers included Jacob Druckman and Bernard Rands. In 1982 a Leonard Bernstein Scholarship enabled her to work at Tanglewood with Luciano Berio, with whom she continued to study in Italy (1983-86).
     Olivero's innovative music speaks the language of contemporary compositional form, yet is inspired by ancient Jewish and other early musical traditions. Folk material appears in rich, nuanced arrangements, or is blended through avant-garde transformations into textures featuring dense heterophony, rhythmic complexity and rich orchestration. Her style is coherent and non-eclectic, yet combines elements as diverse as Judeo-Spanish (sephardic) music, Arab tunes and medieval music integrated into a contemporary musical language.
Olivero's compositions have been performed by leading orchestras and chamber groups such as the Chicago Symphony Orchestra, the New York Philharmonic Orchestra, the Israel Philharmonic Orchestra, the BBC Symphony Orchestra, the London Sinfonietta, the Munich Philharmonic Orchestra, the New Juilliard Ensemble and the Arditti Quartet, Kim Kashkashian, Giora Feidman, Trio Mediaeval, and at many major European, North American and Asian festivals.
---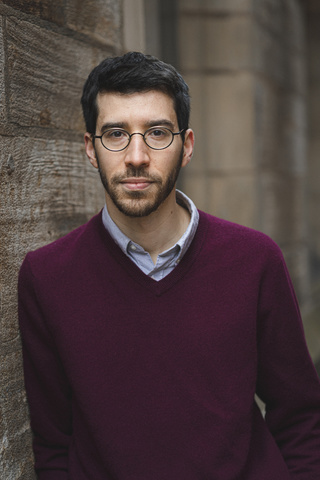 My piece Broken Consort, for violin, viola, vibraphone, and piano is about people trying to play together but not being able to do so. Throughout the piece the players try to play in consort with each other, but something about their attempt is broken or unsuccessful. Even when they do finally manage to play together, in the piece's closing section, there's something bitter-sweet about their resolution. My inspiration for the piece's instrumentation comes from English early Baroque 'broken' consorts, which feature a mix of instruments from more than one family. The piece was written for and premiered at the Yale School of Music "New Music New Haven" concert series in 2021.
Udi Perlman (b. 1990) is an Israeli-born composer based in New Haven, Connecticut and Berlin, Germany. His orchestral, chamber and vocal works have been commissioned and performed by ensembles in Europe, the United States and Israel. Udi Perlman has been awarded the Charles Ives Scholarship from the American Academy of Arts and Letters, Pogorzelski-Yankee Award from the American Guild of Organists, Israeli Prime Minister's Composer Award, and the François Schapira Prize for Composition from the Aviv Competitions, among others. Currently a doctoral candidate in composition at Yale University, Udi Perlman holds degrees from the Barenboim-Said Akademie in Berlin and the Jerusalem Academy of Music and Dance and is an alumnus of Meitar Ensemble's "Tedarim" Program for Contemporary Music.
---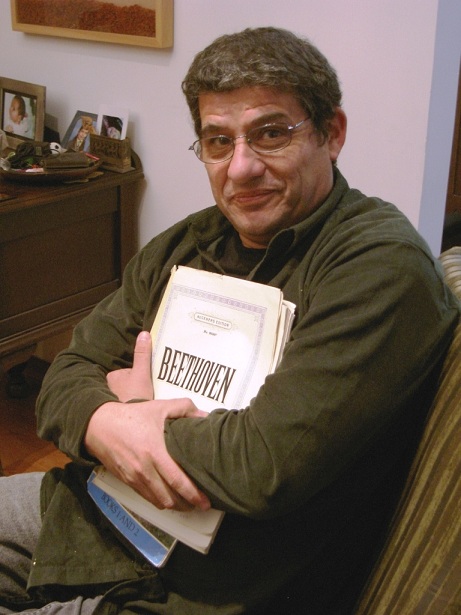 My Brass Quintet was written during my graduate studies in composition at the University of Pennsylvania in 1983 (where I studied with Richard Wernick and George Crumb). At that time, I, like most student-composers, was still in a search of a personal style - a period of experiments, of trying out of techniques, textures, extended tonality (or atonality) and chromaticism, modality, and an intensive learning of 20th century music in search of inspiration. The musical language of the quintet includes the use of modality (mainly the octatonic scale), free chromaticism, the use of heterophony, and the combination of all elements into lyricism and musical expression. The world premiere was played by the "Penn Contemporary Players" directed by Richard Wernick. It was recorded in 2021 by a brass quintet from members of the Israeli Philharmonic.
Haim Permont is a graduate of the Academy of Music and Dance in Jerusalem and the University of Pennsylvania in Philadelphia, USA. Studying composition with Mark Kopytman in Israel and George Crumb and Richard Wernick in the US, his works include music for all genre and media including symphonic, chamber, vocal music for soloists and orchestra, concerti, opera, music for the theatre and cinema and multi-media works. Permont's music was commissioned, premiered and performed by orchestras, ensembles, choirs in Israel and throughout Europe, the US, Australia, South America and the Far East. Since 1985, after completing his Ph.D. studies in the US he joined the faculty of the Jerusalem Academy of Music and Dance, where he serves as the Vice President for Academic Affairs and as a professor of Composition. Permont is a recipient of various prizes, including the Prime Minister Prize for Composition (1995), the ACUM prize (1993, 1994, 2001), the Rosenblum Prize for Performing Arts (1999, 2015), and the M.Margalit Prize for Music for the Theatre. Haim Permont was a composer in residence at the Haifa Symphony (1996- 2000) and at the Rishon Lezion Symphony (2006-2009).
---
Present Continuous was written in the summer of 2009 for the Meitar Ensemble in memoriam of the Israeli composer Ben-Zion Orgad, who had titled his last orchestral piece with this interesting term. The composition is written for violin, clarinet, bassoon and piano and is in three movements, describing three different feelings of time passing by:
     1. Come the Creator Spirit (Largo assai ed espressivo): Which presents the main melodic ideas of the whole piece in a lyrical character. It is a kind of a sustained present, that will reflect the next two movements.
     2. Present Continuous (Allegro vivace e con brio), is a Perpetuo-Mobile movement, describing this kind of moving time that does not really change.
     3. An Eternal Love (Adagio sostenuto e cantabile), which expresses the composer's love to his friends, to his home place, and to the music. It is a kind of prayer for a warm and positive time.
All the tempi instructions in the score are taken from Beethoven's 'Ghosts Trio' op. 70 no. 1, which was a model to both the form and the atmosphere of this composition.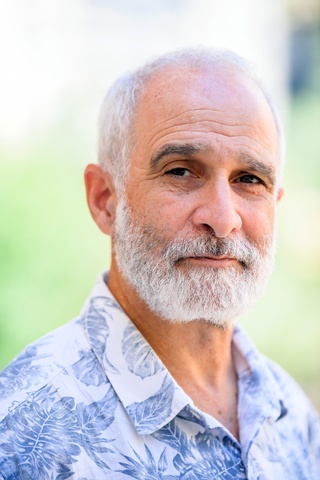 Michael Wolpe, a composer and teacher, was born in Tel Aviv in 1960, a member of Kibbutz Sde-Boker. He studied composition at the Academy of Music and Dance in Jerusalem and at the Cambridge University, United Kingdom. Wolpe had completed his PHD dissertation ("The British Symphony in the second half of the twentieth century"), in the Department of Musicology at the Hebrew University, Jerusalem. Wolpe teaches as a professor at the Jerusalem Academy of Music and Dance, and since the beginning of the academic year 2019-2020, he has served as the dean of the Faculty of Multi-disciplinary Music. He teaches at several schools and institutions in Jerusalem and the Negev region.
     He won the ACUM Prize for Artistic Achievement in 2009 and the Rosenblum Prize for the Performing Arts of the City of Tel Aviv in 2010 as a tribute for his achievements as an artistic director and a composer. In 2014, he won the Prime Minister's Prize for Composers for the second time. In December 2018, he was awarded the Minister of Culture "Yitzhak Navon Prize", for his contribution to the cultivation of Jewish and Israeli culture.
---