Guest Trio
contemporary music for saxophone, trumpet and double bass
Saturday, April 2, 2022 at 7:30p in the Concert Hall
Sarah Hetrick, saxophone
Kenken Gorder, trumpet
Will Yager, double bass
Program
| | |
| --- | --- |
| Our Memories in Scrolls (2022) [Solo for Trumpet & Electronics] | Nathan NOKES |
| | |
| --- | --- |
| IMPEND (2021) [Solo double-bass] | Douglas OSMUN |
| | |
| --- | --- |
| That's The Way The Cookie Crumbles (2021) [Solo for Saxophone & Electronics] | Carolyn BORCHERDING |
Intermission
| | |
| --- | --- |
| exercises I (2017) | Eva-Maria HOUBEN |
| | |
| --- | --- |
| older blood (2018) | inti figgis-vizueta |
| | |
| --- | --- |
| Scribbles, for mixed trio (2022) | Celka OJAKANGAS |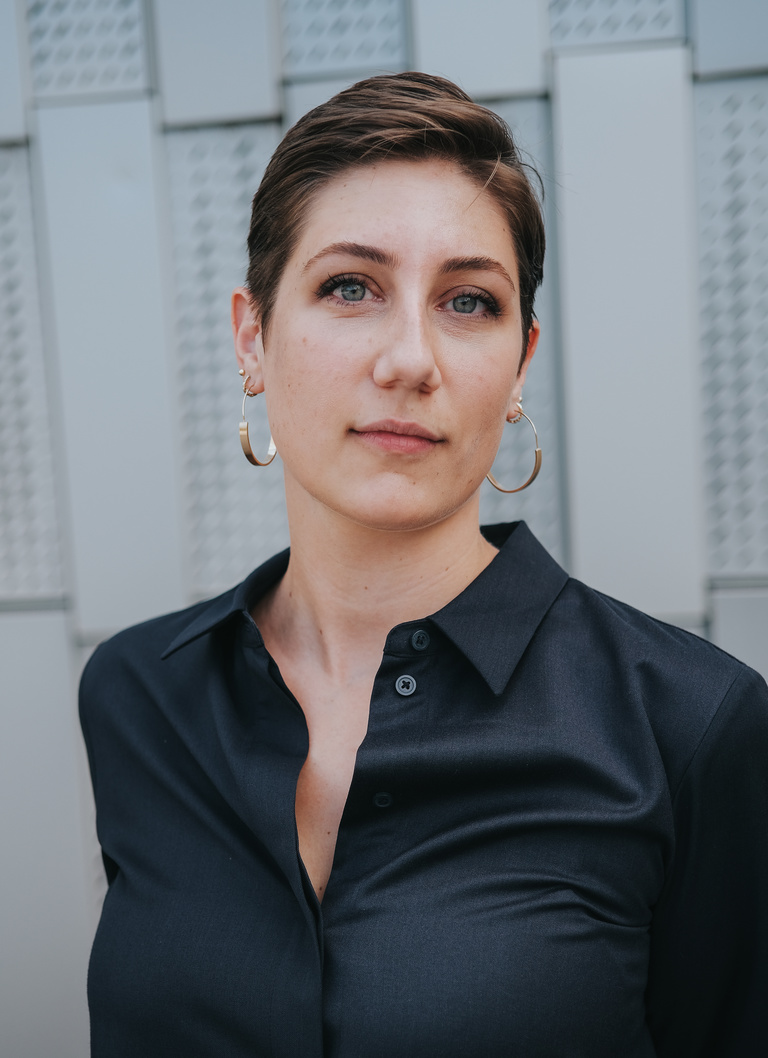 Sarah Hetrick (she/her) is a saxophonist and educator based in South Texas. She currently serves as an Assistant Professor of Music at Texas A&M International University, where she teaches Applied Saxophone and Woodwind Methods. Sarah enjoys maintaining an active performing career as a solo and chamber musician and has been invited to teach and perform at schools and universities throughout the United States, including the University of Iowa, Duquesne University, Colorado State University, Montclair State, Youngstown State University, and others. Sarah performs regularly with her duo partner, Dr. Jooyeon Chang, the award-winning Khroma Quartet, and the Density512 Chamber Orchestra. Sarah is a regular performer and presenter at both national and international conferences and festivals, including the International Saxophone Symposium, the National Association for College Wind and Percussion Instructors' Conference, the North American Saxophone Alliance Conferences, the Oh My Ears Festival, the Boulanger Initiative's WoCo Fest, the Music by Women Festival, and more.
     A dedicated advocate and performer of new music, Sarah has commissioned over twenty works for the saxophone and worked with composers Viet Cuong, Susanna Hancock, Kimberly Osberg, Alexandra Gardner, Tonia Ko, José Martínez, Shelley Washington, Alexis Bacon, and more. Sarah has played in the Fusebox Festival, the Black House Collective, Fast Forward Austin's concert series, the Beerthoven Concert Series, and Tetractys' multidisciplinary collaboration, NetWork.
     Sarah's research covers topics related to the sexualization of the saxophone, the saxophone in media, and the effects of both on students of the saxophone. Sarah has lectured throughout the United States on her paper, "He puts the pep in the party": Gender and the Saxophone in Early-Twentieth-Century American Advertisements. In addition, Sarah created an online catalog of works for saxophone in an effort to provide a public resource for saxophonists world-wide. As director of the Elise Hall Competition for Emerging Saxophonists, a national competition for young gender expansive and female identifying saxophonists, Sarah oversees the commission, operations, and development of the initiative.
     Sarah holds both a Master of Music degree and a Doctor of Musical Arts degree in Saxophone Performance from The University of Texas at Austin, where she was both a University Fellow and the Saxophone Teaching Assistant. Prior to graduate study, Sarah graduated Summa Cum Laude with a Bachelor of Science Degree in Music Education from Indiana University of Pennsylvania. Sarah is a recipient of the Rainwater Grant for Innovation in Music, the Presser Award, the PEO Scholar Award, and UT's prestigious University Fellowship. She has completed additional study at Université Européene de Saxophone in Gap, France and her primary teachers are Dr. Keith Young and Dr. Stephen C. Page.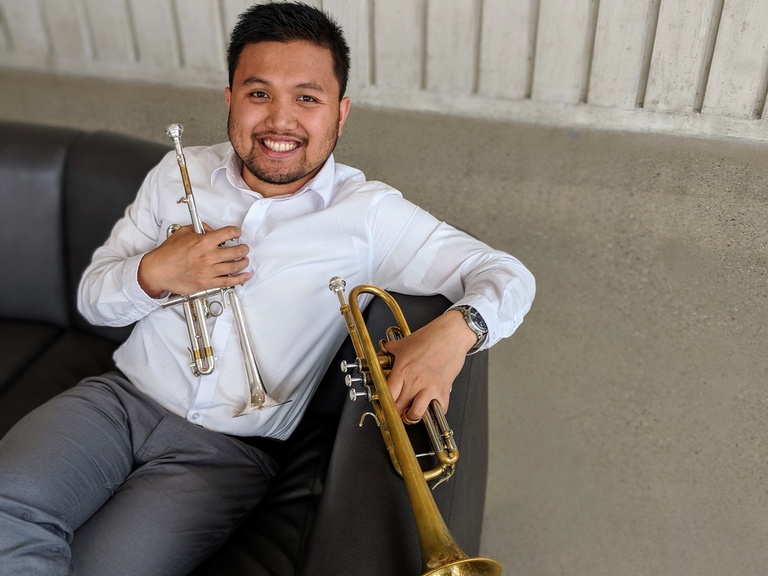 Kenken Gorder, trumpet is a highly versatile trumpeter and music educator based in Austin, TX. He is an active member of the Austin-based new music collective and chamber orchestra, Density512 and the Black House Collective, based in Los Angeles, CA. He is also a recording artist for the organization, Keep Making Music, and a member of the newly-formed Austin Brass Collective. As an educator, he maintains a large studio of approximately 45 students in Austin and the surrounding area. His students have performed at the regional, state, and national levels. He is also on the instrumental music faculty at the North Carolina Governor's School program.
     As a performer and advocate of new music, he has premiered over two dozen pieces of music of varying instrumentations at live and virtual events like the Oh My Ears Festival in Phoenix, AZ and 1:2:1, a weeklong intensive led by four-time Grammy-winning cellist, Nick Photinos. Some recent highlights include a trumpet and multimedia work in collaboration with composer Matt McAllister, entitled Still Pools; a solo trumpet and mixed media piece that was inspired by Langston Hughes' poem, April Rain Song. He also collaborated with composer Wenxin Li on an acoustic trumpet solo entitled 1399. Both pieces can be seen and heard on Mr. Gorder's YouTube channel and "Recordings" page of his website. Other ongoing collaborations include a new trumpet quintet piece by composer Chase Chandler entitled Diamond Anarchy and an upcoming solo-chamber album entitled NüToots: an album of commissions for trumpet solo, mixed duo, and mixed trio pieces by composers Nathan Nokes, Blair Boyd, Celka Ojakangas, Sam Wells, and more.
Aside from the recordings found on his website, Kenken can be heard on saxophonist Kenneth Tse's latest record, The Voxman Project, on the Crystal Records label. He is also on a genre-defying album entitled Devotion by artistic genius and flutist, François Minaux. Both artists have performed music from this album live online between Austin, TX and Paris, France and are planning to tour with it in the near future.
      Kenken Gorder earned his master's degree in trumpet performance studying under the tutelage of Dr. Amy Schendel at the University of Iowa and a bachelor of science degree in music education from Indiana University of Pennsylvania. Previous trumpet teachers include Dr. Kevin Eisensmith, Ken Brader, and Kyle Fleming.
     More information can be found at www.kenkengorder.com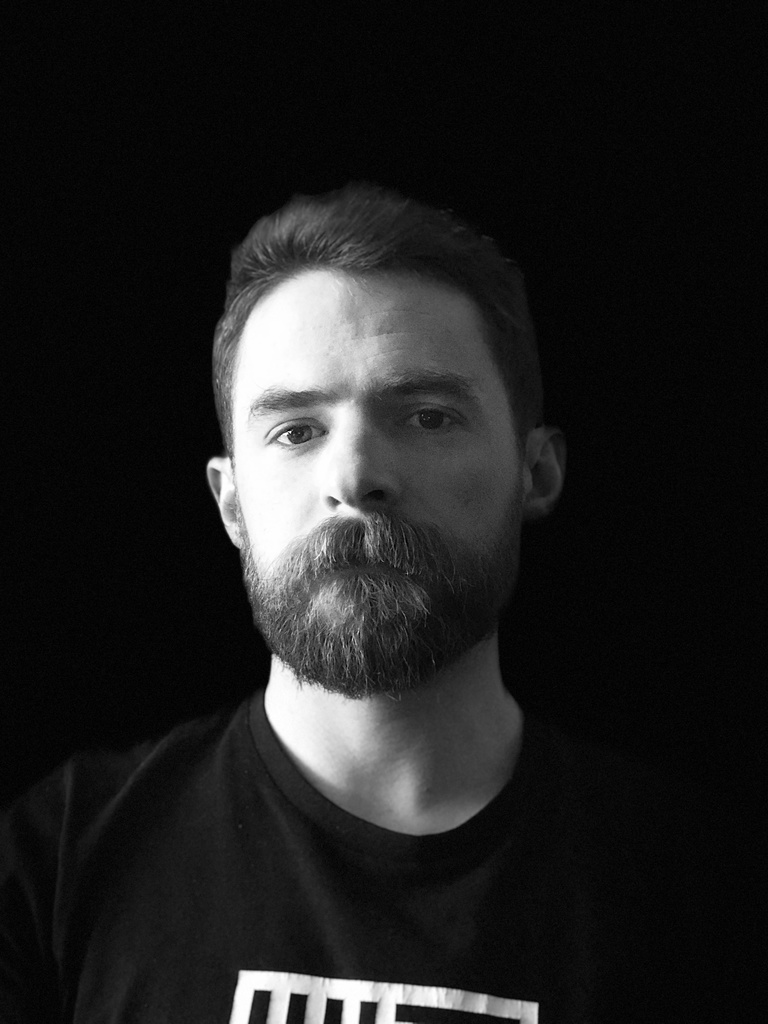 Will Yager, double bass is a versatile bassist/improviser committed to experimental music, improvisation, and collaborating with living composers in the creation of new solo and chamber repertoire for the double bass. He has worked directly with composers Michael Gordon, Scott Wollschleger, David Lang, Miya Masaoka, Jean-François Charles, Sivan Cohen Elias, and Amy Williams, among others. He is a founding member of the soprano/double bass duo LIGAMENT and improvising trio Wombat. Recent appearances include performances at the Experimental Sound Studio's Quarantine Concerts, Open Air Media Festival, SEAMUS Online National Conference, Nief-Norf Virtual Marathon, Oh My Ears Festival, Big Ears Festival, Feed Me Weird Things, New Music on the Point, Cortona Sessions for New Music, and the Bang on a Can Summer Festival, where he was a Robert Black Double Bass Fellow. Yager is also a founding member and currently serves on the board of the organization Bass Players for Black Composers. He is currently based in Baltimore, MD.
     As members of LIGAMENT, Anika Kildegaard and Will Yager have been Ensemble Fellows at New Music on the Point (Vermont) and the Cortona Sessions for New Music (Italy). LIGAMENT were also recently semifinalists in the SAVVY Chamber Music Competition at the University of South Carolina. Recent highlights include performances at the Kansas City Contemporary Music Festival and Cleveland Uncommon Sound Project's Re:Sound 2021. Their performance of Lila Meretzky's All Mute Things Speak Today was recently featured on the ScoreFollower YouTube channel.
     Wombat, along with Justin Comer and Carlos Cotallo Solares, is an improvising trio dedicated to experimental and intermedia performance. Wombat has performed at the Oh My Ears Festival (Phoenix, AZ), MOXsonic Experimental Electronic Music festival, Maximum Ames Music Festival, and the University of Iowa Center for New Music. Wombat has three self-produced recordings available on Bandcamp, including the recent full-length release Befriend the Giant.
Program Notes and Composer Biographies
       
     Our Memories in Scrolls for trumpet and electronics is a work that explores how collective memories are preserved. While writing this I was fascinated with the contrast between two meanings of the world 'scroll,' one ancient and one modern. As a noun, scroll refers to a millennia old method of storing long form writing. It was slow, limited, and only transcribed by a small elite. As a verb, scroll takes on a contemporary meaning – the action of moving pixels on a screen to reveal images or text, such as social media. In this case it is fast, filled with seemingly unending content, and is available to almost everyone. Both are forms of storing and retrieving collective memories. One through the preservation of cultural, religious, or politically significant text, and the other through the storage of life events, opinions, and shared experiences.
     The first part of the work explores the idea of storing ideas in a scroll. I was inspired by the curving shape of the tubes on a trumpet and decided to treat them as a facsimile of a curved scroll. The musical gestures focus on the notes that can be produced by specific air pathways of the trumpet tubes and valves. The possible notes that can be produced by pathways are waiting to be unrolled from the instrument like text stored in a scroll.
     The second part of the work explores the act of scrolling through ideas on social media. Descending gestures cascade one after the other as if one were trying to scroll to the bottom of a webpage which was constantly refreshing and adding content. Rhythm is derived from the possible combinations of trumpet valves. Valves, like a digital bit, can be in one of two states, open or closed, on or off. I transferred this idea into a rhythmic pattern of sustained notes (on), and rests (off).
Our Memories in Scrolls was commissioned by Kenken Gorder for the album NüToots on DensitySOUND and is paid for in part by Density512.
       

Nathan Nokes is a composer, sound artist, whose works explores human communication, interconnectedness in modern society, as well as examining the relationships between the natural and the man-made. Working in acoustic, and electroacoustic mediums as well as interdisciplinary mediums, he has written for concert stage, dance, installation-performance works and multimedia installations. As a performer he explores the use of electronics in improvisation, including the use of live sampling, digital processing as well as analog synthesis.
     Works of his have been performed and recorded by members of ensembles such as Tak Ensemble, Switch~ Ensemble, Line Upon Line, Wet Ink, Ulysses European Ensemble, Mivos Quartet,, and Invoke Quartet. His string quartet and electronics work Alone Together received the 2020 Matera Intermedia Festival award in mixed media. His music and sound installations have been featured in concert series such as International Saxophone Symposium (VA), Oh My Ears Festival (AZ), Fusebox Festival (TX), New Voices Festival at COA (DC), Foot in the Door (CT), Cohen New Works Festival (TX), Electric LaTex (LA), and Festival of Contemporary Art Music (WA). His fellowships, scholarships, and residencies include the Kent Kennan Graduate Fellowship (TX), I-Park Foundation (CT), Nief-Norf Technology Fellowship (TN), Hartt Talent Scholarship (CT), and The Walden School (NH).
     Nokes is a founding member, and the technical director of the new music collective Less Than 10. He received a D.M.A. in composition from the University of Texas at Austin, a M.M. in composition from Hartt School of music at the University of Hartford, and BM. in Composition from Washington State University.
| | |
| --- | --- |
|         | IMPEND is the faltering machine, the system decay in which the system does not know the tools to repair itself. Its only designated logic is to continue churning regardless of any impeding entropy. What becomes of an unsustainable system, its limits now clearly articulated but which only knows its linear continuity? Or of a cultural order designed to produce frictionless modes of extraction, consumption, and communication, also now facing accelerating entropic forces emerging from within its own design? |
       

Douglas Osmun is a composer of acoustic and electronic music, whose acoustic works are informed by electroacoustic aesthetic frameworks. He is primarily concerned with the phenomenological elements of performative physicality, treating the physical-gesture/sound relationship as a structural element. The physical/sounding dichotomy ideas of his works are malleable, transfigurable, and abstractable; as the composed rubble from which new systems can emerge in a collaborative environment. His goal is to create performance ecosystems which invoke new possibilities for the organization of our world through an artistic practice of community, solidarity, and pluralistic virtuosities.
     Osmun's music has been heard at the BGSU Graduate Conference in Music, the SEAMUS National Conference, the SCI National Conference, NYCEMF, and the Big Sky Documentary Film Festival. He has recently written works for Alarm Will Sound, the St. Louis Symphony Orchestra, and SPLICE Ensemble, in addition to a performance of soliloquy with Timepoint Ensemble and Verdant Vibes. Osmun is currently pursuing his Ph.D. in Composition under the guidance of Marcos Balter at UC San Diego. Osmun holds degrees from Western Michigan University (B.M. in Music Composition) where he was named a Beulah and Harold McKee Scholar, and the University of Missouri (M.M. in Composition). Former private teachers of his include Lisa Renée Coons, Christopher Biggs, Stefan Freund, and Carolina Heredia.
 
       
That's the Way the Cookie Crumbles
     This is an experiment in improvisation with live electronics. The piece can take on many different forms and styles based on the improviser's decisions while playing and progressing through the cues. The form and duration are flexible, and there is no score besides short descriptions of each cue displayed in the SuperCollider post window. For me as a composer, this was also an exercise in letting go, as all of my work up until this point has required very specific scored directions to the performer. The title of the piece fits the material well. Whatever the decisions of the performer may be, that's just the way the cookie crumbles.
       

Carolyn Borcherding is a composer and sound artist predominantly interested in building sounding and visual worlds within which performing bodies and audio gestures can exist together in various fluid relationships. Her body of work ranges from pieces for solo instruments to multimedia ensembles consisting of video, electronically produced sound, and acoustic instruments. In her multimedia works, she considers each medium an essential performing body in which the media interact with, relate to, and inform one another. In fixed media works, she experiments particularly with the creation and destruction of the listeners' sense of space. Carolyn has had works performed internationally throughout the North American region and at national and regional events such as the Society for Electro Acoustic Music in the United States National Conference, the North American Saxophone Alliance National Conference, Electronic Music Midwest, New Music on the Point, and others. Carolyn received her master's degree in music composition at Western Michigan University. She is currently pursuing her doctorate in music composition at the University of Illinois.
 
       
exercises I
     Three participants sharing a room, living in various forms of relationship. With the third party, which is added, several collisions and frictions become possible, but also compensation can take place. The performers may evoke different constellations within their small group. The three performers are radically dependent on each other. The piece exercises I opens the space for conflicts, for a kind of protection against danger, for separation, for meeting each other as a duo plus a single existence, and so on. At the same time the sounds themselves evoke their own life time: in succession and/or in simultaneity.
       

Eva-Maria Houben (b. 1955) studied Music Education at Folkwang-Musikhochschule Essen and the organ with Gisbert Schneider. Following her exams she taught both German and Music Education at Secondary School. She received her doctorate and postdoctoral lecturing qualification in musicology and was called for lectures at Gerhard-Mercator-Universität Duisburg and Robert-Schumann-Hochschule Düsseldorf. Since 1993 she has been lecturing at Dortmund University`s "Institut für Musik und Musikwissenschaft", with both music theory and contemporary music as her focus.
     Since 2000 her music is published by Edition Wandelweiser (Haan). Several CDs have been released by Edition Wandelweiser Records, Another Timbre, Irritable Hedgehog, Makro. In 2012 she founded her own label diafani (www.diafani.de).
     See the list of publications (musicology), concerning contemporary music and traditional music: www.evamariahouben.de.
     She performs works for organ and piano, as soloist as well as a member of duo, trio, ensemble.
       

inti figgis-vizueta (b. 1993) writes magically real musics through the lens of personal identities, braiding a childhood of overlapping immigrant communities and Black-founded Freedom schools—in Chocolate City (DC)—with direct Andean & Irish heritage and a deep connection to the land. Her musical practice is physical and visceral, attempting to reconcile historical aesthetics and experimental practices with trans & indigenous futures.
     The New York Times speaks of inti's music as "alternatively smooth & serrated" and "slyly warp[ing] time", The Washington Post as "raw, scraping yet soaring", and The Strad Magazine as "between the material and immaterial". Recent honors include the 2020 ASCAP Foundation Fred Ho Award and a 2022-23 Music Fellowship from the Civitella Ranieri Foundation. inti is currently in residency at Sō Percussion's Brooklyn studio for the '21-22 season. Upcoming projects include new works for the American Composers Orchestra, Kronos Quartet, and Roomful of Teeth, in collaboration with visual artist Rose Bond.
     2020-2021 commissions included works for the LA Philharmonic, Kronos Quartet, Attacca Quartet, JACK Quartet, & Crash Ensemble, as well as Jennifer Koh, Matt Haimovitz, Andrew Yee, and Jay Campbell. Recent performances of inti's music have featured the International Contemporary Ensemble, Talea Ensemble, Music at Copland House Ensemble, red fish blue fish, Aspen Contemporary Music Ensemble, Oberlin Sinfonietta, Ensemble Connect, Civic Orchestra of Chicago, The Walden School Players, OSSIA New Music, Ensemble Reflektor, BGSU Contemporary Ensemble, Northwestern Contemporary Ensemble, and members of the San Francisco Symphony, Oregon Symphony, and LA Philharmonic. Her music has appeared in spaces such as Carnegie Hall, Lincoln Center, Kennedy Center, and The Phillips Collection as well as the Ojai Music Festival, TIME:SPANS Festival, Kronos Festival, New Music Dublin Festival, Aspen Music Festival, Tribeca New Music Festival, ultraBACH Festival, Mizzou International Composers Festival, and New Latin Wave Festival.
     In 2022, inti will join Fifth House Ensemble's Fresh Inc Festival as lead composition faculty and return to teach for her third year at Wildflower Festival (formerly Young Women Composer's Camp). inti also joined Kaufman Center's Luna Composition Lab as a mentor for the '21-22 lab, recently completing mentorship work with the inaugural Boulanger Initiative Elizabeth Henriksen Mentorship Program. inti will also appear as composition faculty at the inaugural '21-22 Atlanticx Composition Festival, a program focused on Latin American composers.
     inti's music appears on violinist Jennifer Koh's 2021 GRAMMY-nominated album Alone Together as well as cellist Matt Haimovitz's 2021 GRAMMY-nominated album Primavera I: the Wind.
     inti studied privately with Marcos Balter, George Lewis, Donnacha Dennehy, and Felipe Lara. inti received mentorship from Gavilán Rayna Russom, Du Yun, Angélica Negrón, Tania León, and Amy Beth Kirsten.
     inti loves reading poetry, particularly Danez Smith and Joy Harjo. inti honors her Quechua bisabuela, who was the only woman butcher on the whole plaza central and used to fight men with a machete.
       
Scribbles
     When Kenken first approached me about writing this piece, he asked if I could somehow incorporate my visual art. I know from experience that playing a difficult piece requires some flexibility with the timing, and for that reason the visual element would need to be fairly abstract (as opposed to "Mickey Mousing" the music to my animations).
     Well, the first abstract visual thought I had was of a scribbly blob. I wondered how I could imitate that in the music, and so this experimentation of sliding bisbigliando figures and microtones was born. The moments of rigid timing where the ensemble plays together are purposely a little groovy and a little slidey, with hopes of it sounding whimsical and fun, much like the adventure one takes when they finally get to seriously doodling and letting their mind soar.
     –Celka Ojakangas, 2022
       

Celka Ojakangas is an award-winning Los Angeles-based composer whose "work rates high on the bold and beautiful scales" and "takes molecular musical quirks and explodes them, then seizes precious moments of lyricism." (Columbia Tribune) Her music plays with hybridism and recontextualization, intentionally exploring and blurring the boundaries between culturally-defined genres for a resultant fun and eclectic palette of textures, rhythms, and grooves. Celka gleans her musical ideas from her collaborative work as a violist in symphonies, new music ensembles, jazz bands, and rock bands, always with the intention of bringing creativity and play to the forefront of the listener's and performer's experiences.
     Celka's compositions have been premiered and commissioned by many artists including Alarm Will Sound, yMusic, Hocket, Kaufman School of Dance, the Raleigh Symphony, Portland State University Opera, New Opera West, Blackhouse Collective, Bantam Winds, Thornton Symphony Orchestra, and Thornton Wind Ensemble. Recent distinctions include the Mizzou International Composer Festival Composer's Residency, Opera America's Discovery Grant for Female Composers, the American Prize for Wind Band, the IAWM Alex Shapiro Prize Honorable Mention, and multiple finalist positions in ASCAP's Morton Gould Young Composer's Competition. Active as a composer, conductor, and performer, Celka has also collaborated with musicians at the Blackhouse SoCal Intermedia Workshop, the Oh My Ears! Festival, and the Oregon Bach Festival Composers' Symposium.
      Celka is presently pursuing her doctorate at the University of Southern California. Current and former mentors include Donald Crockett, Andrew Norman, Ted Hearne, Sean Friar, Frank Ticheli, Mara Gibson and Carlyle Sharpe. She currently serves as an Adjunct Professor of Music at Occidental College.
     Outside of music, Celka loves to draw, make goofy faces and be a mom to her pet Lulu, the bare-chested rescue parrot.