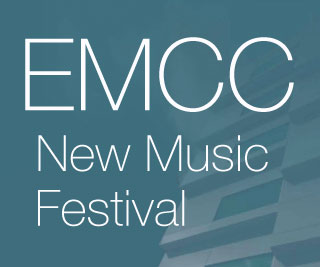 The Center for New Music hosts
 
Exchange of Midwest Collegiate Composers
Festival of New Music
 
Concert 2
Saturday, April 7, 2018 at 10:00am in the
Voxman Music Building Concert Hall
 Program
Neither Rhyme Nor Reason
Rebecca PAPE (UI)
  I. Paocket
 II. Canolo
III. Scherzuel
IV. Revelagments
Lydia Dempsey, oboe
Tyler Hendrickson, viola
fixed media
Sonata for Flute
Luke KOTTEMANN (UI)
Maeve McGonigal, flute
3 Impromptus for Piano
Drake RUTHERFORD (CU)
Drake Rutherford, piano
fixed media
Refreshing the Feeling
Dylan FINDLEY (UMKC)
Fraser Farmer, bassoon
Clara Lee, violin
 Program Notes
Rebecca Pape (UI)
Neither Rhyme Nor Reason
This is the first piece I have written that uses specific processes and contingencies both to generate materials - for example, pitches, harmonic structures, and rhythmic placement - and to provide form and order to them. The idea behind each of its four movements was to combine two techniques or forms. "Paocket" is the combination of "pass" (instruments "pass" off the melody line or motives) and "hocket" (one instrument plays while the other has rests). "Canolo" is the combination of "canon" (imitation of melodic material) and "solo" (when an instrument is featured with a unique melody). "Scherzuel" fuses a "scherzo" (an often light and playful musical movement) with a "duel" (a fight between two people). "Revelagments" combines "revelation" (dramatically revealing something that was previously unknown) and "fragments" (pieces of an object, in this case the previous movements). Overall the piece explores different types of interaction between the instruments, which seem sometimes to support or inspire, and at other times to sabotage one another.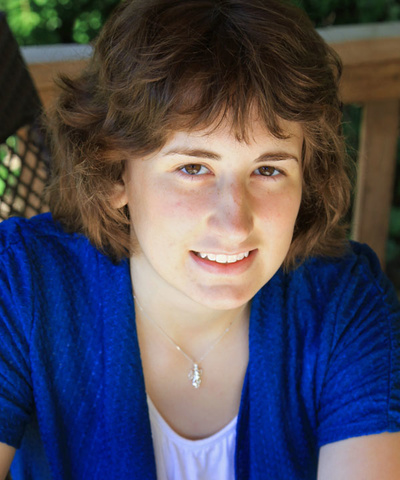 Rebecca Pape
is a first year graduate student at the University of Iowa pursuing the Master of Arts in Music Composition. She is originally from Illinois, but completed her undergraduate degree at Anderson University in SC with a major in Piano Performance and a minor in Composition. There she had multiple works performed by the various ensembles at Anderson University, including the Concert Choir, Piano Ensemble, and Woodwind Quintet. At the University of Iowa she has had pieces commissioned and performed by fellow students in the Composers Workshop Concert and the 24+24 Concert. She also had a piece selected for the Exchange of Midwestern Collegiate Composers (EMCC) conference. She has studied composition with Dr. Richard Williamson and currently is studying with Josh Levine.
Joe Chen (UMKC)
Red
Red is a setting of the eponymous poem by John Hollander, which constitutes the spoken text, and the 137th psalm, which constitutes the sung text.
Joe Chen has studied with Chen Yi, James Mobberley and currently David DeWalt. Red will be performed at the 2018 SEAMUS conference.
Luke Kottemann (UI)
Sonata for Flute
Sonata for Flute
is intended to have the form of a traditional sonata, however, instead of the primary and secondary themes being separated by key signatures, they are differentiated using extended techniques. For example, the primary theme is characterized by the use of multiphonics, trills, and is more legato. Conversely, the secondary theme is more staccato, energetic, and contains the use offlutter tonguing. Like a traditional sonata, Sonata for Flute also contains a development section which further explores the motives that were already introduced, while also providing some new material. Finally, the piece recaps with a variation of the exposition. The secondary theme now takes on some characteristics of the primary theme, however, unlike a traditional sonata where it would change keys to be in the same key as the primary theme, the secondary theme loses its flutter tongue and is instead more focused on trilling.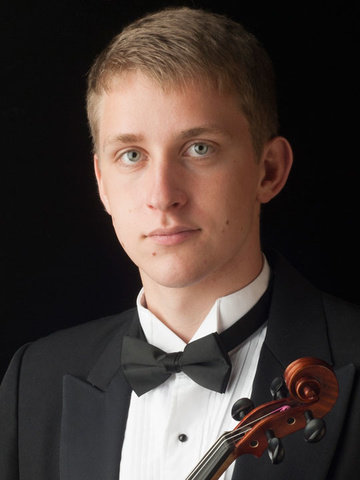 Luke Kottemann is a composer and violinist who is currently pursuing a BM in Music Composition and a BSE in Electrical Engineering at the University of Iowa. Luke's music has been performed throughout the Midwest by ensembles such as CNM. He is currently studying composition with Jean-François Charles and has studied with Nomi Epstein, Josh Levine, David Gompper, Lawrence Fritts, Joshua Marquez, and Nima Hamidi.
Drake Rutherford (CU)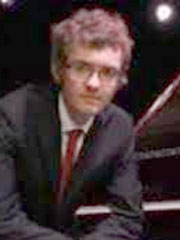 3 Impromptus for Piano
These three short pieces were written 2016-2017 without connection to one another, and then later grouped under the title Three Impromptus.
Drake Rutherford was born in Colorado Springs, Colorado. He is pursuing a BM in music composition at University of Colorado – Boulder and has studied under Carter Pann and Michael Theodore.
Qi Jing (UMKC)
Spiral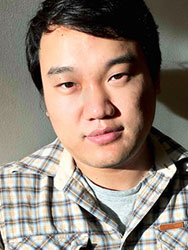 Qi Jing
was born on April 14, 1989, in Yinchuan, China. Both of his parents are musicians. Qi start his piano study at age of 5. His music represents the personal sensitivity. It often contains highly emotional expression, which him prefer not to indicate with flowery words. He interests in absorbing the folk music element from China and Japan into his own musical language, using special extended technique of western instrument to represent the sound of the east. His music usually contains multiple linear, rhythmically cross with each other, to create a misty atmosphere.
    Qi has great passion about composing and working with musicians. He said: "The most delightful moment for me probably is when I hear my music transformed, finally, from the ink on the sheet to the meaningful sounds produced by the players, I mean, correctly. That little moment is always refresh and satisfying."
    Qi Jing's music has been performed in various conferences and festivals, including SoundSCAPE music festival, Italy (2016,2017) Atlantic music festival (2014) American Viola Society annual conference, Oberlin.(2016), etc.
    Qi Jing is the winner of the 13th SUN RIVER PRIZE International Students' New Music Composition Competition, 2017. Cleveland Composers Guild Collegiate Competition, 2014, and the 4th Biennial Gardner Composition Competition, 2016. He is also the finalist of the ASCAP Foundation Morton Gould Young Composer Awards, 2014.
    Qi holds degrees from University of Illinois-Urbana Champaign and Kent State University. Currently he is getting a DMA in composition at University of Missouri-Kansas City. Qi primarily studied with Zhou Long, Erik Lund, Reynold Tharp, Frank Wiley and Sebastian Birch. He also studied electronic music with Scott Wyatt, James Mobberley and Eli Fieldsteel.
Dylan Findley (UMKC)
Refreshing the Feeling
"Yellow earth is said to be distinguished for antibiosis and poison counteracting effect, helpful for revitalizing the physical rhythm and refreshing the feeling." --Korean Folk Village sign
    This peculiar translation from Korean to English inspired me because of its apparent musical qualities. Written originally for TransAmerican Duo, the piece channels hyperactive energy, playfulness, and eccentricity to invoke vitality. The music often refers to the beginning or snippets of earlier material, in a sense refreshing the work.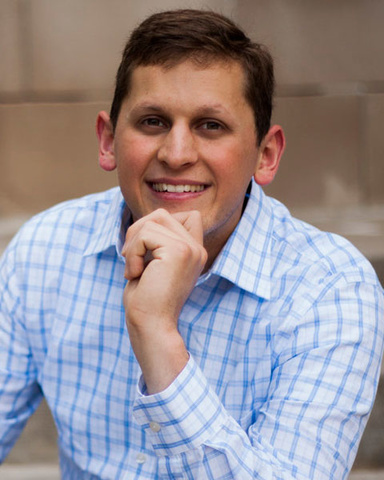 Dylan Findley
(b. 1991) writes music as a sacred act of expressing intangible truths through emotion. As such, he enjoys the interplay between symbolism, perception of musical space and time, and the exploration of interesting sounds. For this reason, Dylan's work spans from loosely structured improvisations to complex and meticulous allegorical works.
    He has been awarded commissions by the Barlow Endowment, New American Voices, American Guild of Organists Student Commissioning Project, and the Barlow Student Composition Award. His music has been championed by Transient Canvas, Great Noise Ensemble, members of the Cleveland Symphony Orchestra, PULSE Trio, TransAmerican Duo, Frost Symphony Orchestra, and Brigham Young University's Wind Symphony and Symphonic Band. His works have been featured at the Oh My Ears Festival, Blue Ridge Music Festival, the National Student Electronic Music Event, Region VI Conference of the Society of Composers, Inc., ALBA Music Festival in Italy, Clarinova (a clarinetist-composer consortium), Atlantic Music Festival, Florida Electroacoustic Student Festival, Imani Winds Chamber Music Festival, and Utah Xtalk, and the West Fork New Music Festival. This summer his work will be performed by Ensemble Mise-en at the June in Buffalo Festival.
    His teachers include James Mobberley, Zhou Long, Lansing McLoskey, Christian Asplund, Neil Thornock, Michael Hicks, Sam Richards, and University of Miami Composers-in Residence Martin Bresnick, Stephen Hartke, and Augusta Read Thomas. He currently attends the University of Missouri-Kansas City, where he pursues his Doctorate of Musical Arts. Listen at www.dylanfindley.com.